Mary Baldwin College
Virginia Women's Institute for Leadership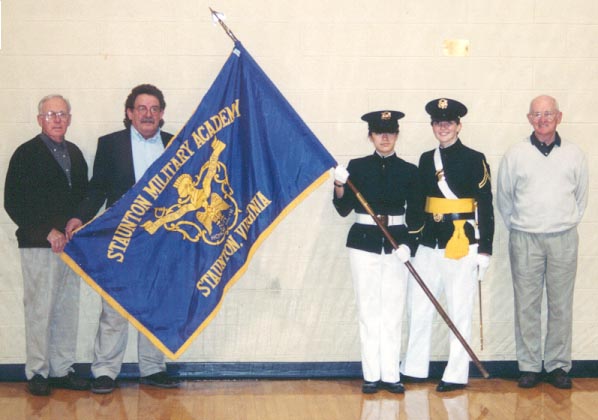 A Real Touch of Class

MBC-VWIL Color Guard Includes SMA Flag. A special SMA flag was made that now flies in all parades, which was unveiled before the parade, as seen in the picture above. Pictured (L-R): Bill Leeman, SMA '50, Fred Burner, SMA '68, Monica Choi, VWIL '02, Iuliana Petri, VWIL '01, and Stu Smith, SMA '48. Iuliana Petri and Monica Choi are the first two receipients of the SMA Alumni Association Leadership Scholarships.

The Virginia Women's Institute for Leadership was founded in 1995, and in May 1999, MBC-VWIL celebrated its first graduating class of seniors. Of the 22 seniors that graduated VWIL, 11 of them are planning on commissioning with the military services.

I received a proposal from Mary Baldwin College-VWIL student Iuliana Petre to sponsor a review, with "local" SMA alumni & faculty as guests of honor, with a small reception afterward.

MBC's VWIL has only 120 cadets, and the SMA-VWIL Parade is an attempt for them to learn, through direct contact with alumni, about the past presence of SMA on the campus. Their desire was keep the event small this year and see how it works out before considering an all-class size of event.

SMA representatives coordinating the event with MBC, Ned Bonfoey, former SMA commandant and history teacher, and Brockey Nicely, SMA '65, both Staunton residents, prepared a list of the names, including the addresses & phone numbers of approximately 100 alumni and faculty still residing in the Staunton-Waynesboro-Augusta county area for that purpose.

Iuliana Petre's proposal letter is reproduced below.



Iuliana Petre
SMA/VWIL Scholarship Inaugural Recipient - 2000

Dear Mr. Kantzler,

My name is Iuliana Petre, I am a sophomore at Mary Baldwin College and a cadet in the Virginia Women's Institute for Leadership (VWIL) here at MBC. Over the year and a half that I have spent here at Mary Baldwin, I have learned more and more about the Staunton Military Academy. I am very proud of the fact that there is so much history on this campus. I feel that Mary Baldwin College doesn't do enough justice to the Staunton Military Academy or the gentlemen who at one time proudly attended the academy.

Being in VWIL, where I receive some ROTC training, I have come up with an idea that I think will please some of the alumni of SMA. My idea was that the alumni (of all graduating classes) of SMA, come to Mary Baldwin for a weekend and share some of your history with us. The VWIL Corps would host a parade for you all, and the alumni could be the reviewing party for the pass-in-review.

I have spoken to the director of the VWIL Program, Dr. Brenda Bryant, and she has agreed that it is a good idea, and it could be done. I also contacted Colonel Mike Bissell, the commandant of cadets, and he told me to run with it.

I like to think that my idea is feasible, but I will not know this without your response. Please, contact me and let me know what your ideas on the subject may be. I hope we can make this possible.

Thank you.

Sincerely,

Iuliana Petre

---




Well, Iuliana Petre's idea has become history and has turned into the future with a new, permanent symbol of cooperation and mutual respect, the SMA-VWIL Museum, to be dedicated at the 2001 annual reunion. I think I can speak for all SMA alumni cadets in saying that her expression of pride and interest in SMA's history, and the support of Dr. Bryant and VWIL-MBC Commandant Col. Mike Bissell of her effort and for the Legacy 2000 Projects, is deeply appreciated. Some pictures of the VWIL cadets parade are posted below.

It somewhat looks like the good old days. I guess that field is destined to have the sound of marching music echo from its stands.


A Real Touch of Class
MBC-VWIL Color Guard flies SMA flag in parade.